A Rosary Resurrection (of sorts)
by Fr. Dismas Sayre, O.P. Rosary Center Director and Promoter of the Rosary Confraternity, Light and Life Newsletter V76N2, March-April 2023
For various reasons, massive Rosary-related events have mostly gone by the wayside. A few groups still have resources and events, but these tend to be more local, or situated in local cells within parish groups. They do serve a wonderful spiritual purpose, but the question remains, why not more? Why not another large, public witness to our Faith and to the power of the Rosary?
Regrettably, the days of Father Peyton's famous "Rosary Rallies" have but faded into a fond memory for many of our older prayer warriors. It is somewhat to our shame as Dominicans, the traditional keepers and promoters of the Rosary, that we have allowed this to occur. As I often tell people, I don't care so much that people join our blessed and indulgenced Confraternity as much as I desire that people actually do pray the Rosary. But that does not imply that we cannot be doing more as Dominicans.
Motivated by so great a need, then, we, the various Rosary Confraternities throughout the United States, are joining together to promote our first Rosary Pilgrimage. Although the first couple of months have passed, it is never too late to join in our monthly prayer, on each 30th day of the month, to pray our Rosary Pilgrimage prayer, and finally, to join together in person for the inaugural Rosary Pilgrimage Mass at the Basilica of the National Shrine of the Immaculate Conception in Washington, DC, on the 30th of September, the vigil for what will be Rosary Sunday in 2023. For those who receive this newsletter by mail, you will receive a Rosary Pilgrimage holy card.
For those who receive this newsletter electronically, we would be most happy to send you a card. If you need a large number of cards for your parish, making absolutely sure that the pastor explicitly approves (we cannot stress this strongly enough), please let us know and we will send them to your parish.
As I write this, the schedule for the in-person event is still being finalized. However, we Dominicans have agreed on one thing: It shall be Dominican. You who have received our newsletters, or have read our beloved Fr. Paul Duffner, OP's wonderful books filled with his articles, know our spirituality and theology as Dominicans, know well how Dominicans love Our Lady, how we strive to preach the word, in season or out of season, for the salvation of souls. That is what you will experience in our nation's capital.
So please consider this your formal, written invitation. Join your confraternity brothers and sisters throughout our nation in prayer, listen to the Dominican friars share their faith and their contemplation of the great gift that is Our Lady's Rosary. And even if you can't join us in person, join us in prayer for this event, that it may be the start of something beautiful, and something glorious, for the salvation of souls.
Nine Month Novena starting January 30, 2023. Pilgrimage to the Basilica of the National Shrine of the Immaculate Conception, Washington, DC, September 30, 2023, Vigil of Rosary Sunday. For more information on this event specifically, visit: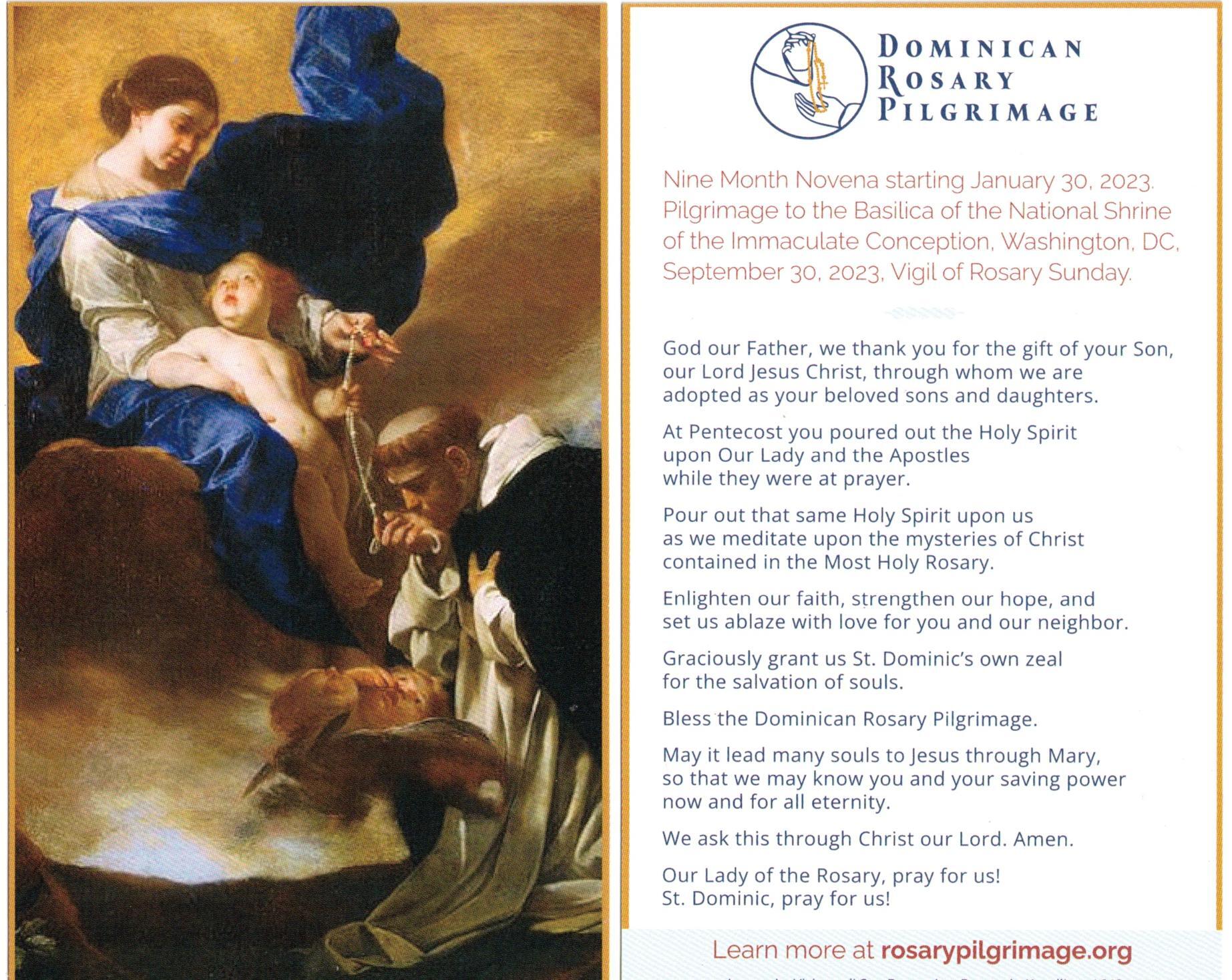 Note from the Director

Dear faithful supporters of the Rosary Center & Confraternity, THANK-YOU! to all who have already donated to help us. We cannot do this without you! We rely on your ongoing support. May God bless you for your generosity!
Fr. Dismas Sayre, O.P.
Theology for the Laity